Have you made off-the-rack jeans your sworn enemy and are convinced store bought jeans can't possibly flatter your figure? Are you dying to craft your own pair, but are too scared to make the first cut? Or, did you sew a pair of your own many moons ago, but are eager to update your skills?
---
If you find yourself nodding along, look no further. Our Sew Your Dream Jeans Workshop will give you the tools and techniques to design, sew, and wear your very own custom pair of jeans. Like a boss.
---
Welcome to the ultimate jean-making class! Here's a secret that's bound to change everything: jeans are not the enemy, and making your own pair, no matter your skill level, isn't that hard. Plus, DIY-ing your denim is way more fun than trying on a few hundred pairs in a tiny dressing room, only to find one that kinda-sorta fits your body. Skip the hassle of one-style-fits-all jeans and fill your wardrobe with professional, handmade denim that polishes your sewing skills and celebrates your best assets.

I've taught both amateur and pro-level sewists how to make jeans online, designed and sold thousands of patterns (and then wrote an e-book about it!), and have traveled around North America to teach people in person how to sew for their own style. I'm thrilled to say that I've condensed every detail I've ever learned about the process of making jeans into this in-depth, easy to follow workshop that I know you'll love.
Work at your own pace – anytime, anywhere, on any device – and learn the handiwork that shows you how to fit a jeans pattern to the proportions of your body, source top-notch materials and supplies, sew denim on a standard home sewing machine, and learn construction methods that make your jeans look like they were made for you – because they were.
Sew Your Dream Jeans is a thirteen lesson, +four hour long comprehensive online course that guides you through the process of sourcing, designing, stitching and finishing your own custom-fit jeans.
By following along using the included Ginger Mid-Rise Skinny Jeans pattern (although you can use any pattern you like for this class), Heather Lou of Closet Case Patterns teaches each lesson in simple language everyone can understand, so both advanced and novice sewists alike will feel confident wearing their new jeans, and using their newly acquired sewing chops.
IN SEW YOUR DREAM JEANS, YOU'LL LEARN...
✂ How to shop for and source beautiful denim and all the necessary jean-making supplies.
✂ How to find the perfect size for your body, and grade in-between sizes.
✂ Basic pants & jeans fitting, with examples shown on a live model and all major adjustments demonstrated on camera.
✂ How to prep denim and cut it to prevent 'leg twist'.
✂ Sewing techniques for the most durable denim seams, using a regular sewing machine or serger.
✂ Tips for painless and professional-looking topstitching.
✂ Two different pocket styles, including the ultra-flattering, tummy-tucking pocket stay.
✂ How to confidently sew a fly front zipper and button fly.
✂ Ways to install jeans buttons and rivets at home, without requiring special equipment.
✂ Sewing methods that include a comfortable, sturdy waistband without awkward gaping.
✂ How to place back pockets that accentuate your best assets.
INCLUDED PATTERN
While you can use any pattern on the market to follow along (including mens jeans since the construction is the same), we have created an exclusive jeans pattern for you to use in this workshop. Our best-selling Ginger Jeans have been made thousands of times by women around the world. For the first time, we have made a new version available; universally flattering with two leg shapes, our Mid Rise Ginger Jeans are destined to be the jeans you reach for time and time again. Available as a digital file, you will be able to download a free copy of this pattern upon enrollment. Prefer a paper pattern? Visit the Getting Started section of the course for a 50% discount to use on printed Morgan or Ginger jeans.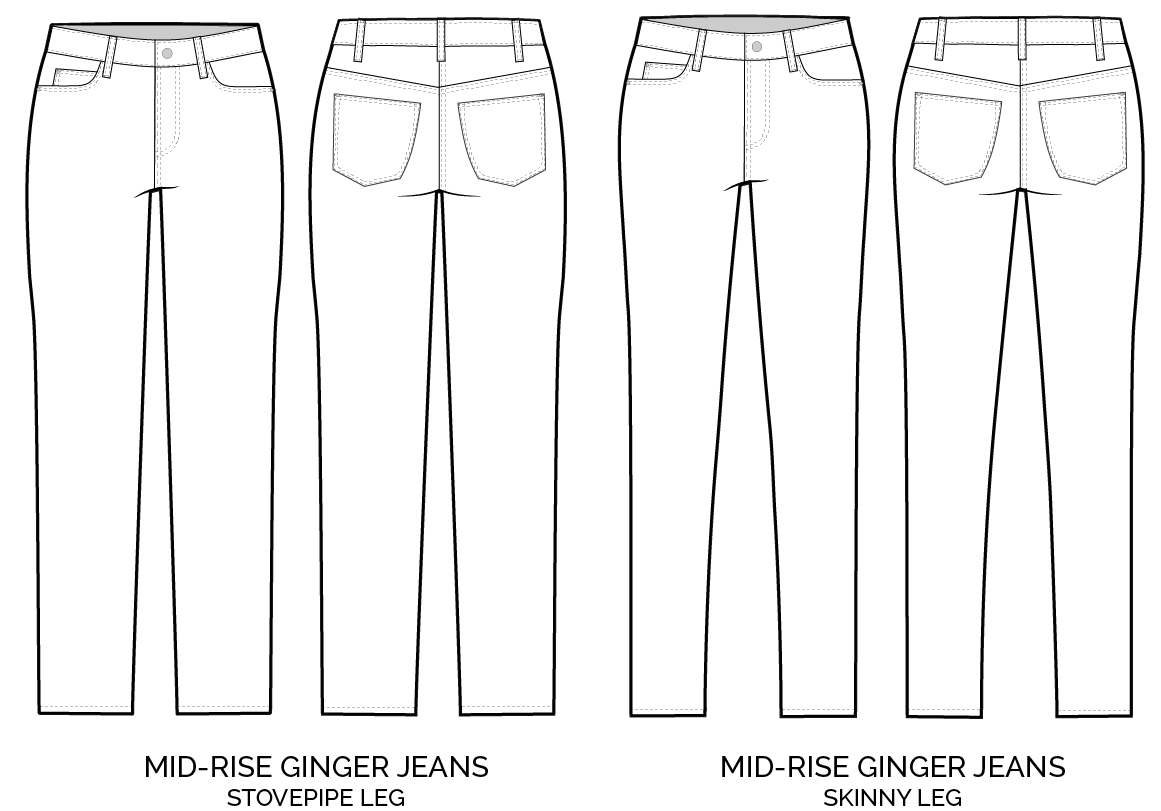 ALSO INCLUDED:
Printable cutting list to help you keep track of pattern pieces and fit adjustments.

Comprehensive sourcing guide for all your jean-making needs.

Downloadable jeans & pants fitting guide to help you diagnose common fitting issues.

Printable resource of over 30 back pocket designs to help you personalize your dream jeans.
COURSE BENEFITS
✂ Learn anytime, on any device, with unlimited access.
✂ Self-paced lessons mean you decide when the course begins and ends, and how many times you watch it over again.
✂ Helpful tips, techniques, and methods for making your own pair of jeans from a noteworthy jean-making queen.
✂ Acquire sewing skills that are transferrable and can be built upon in future sewing projects.
✂ Get additional help! You can always count on a response from Heather when you leave a comment or question in the lesson.
Your Instructor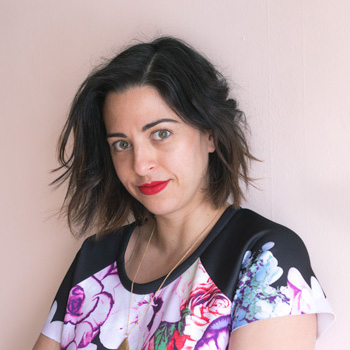 Heather Lou is a pattern designer, blogger, and sewing educator for the modern maker. As the force behind Closet Core Patterns, she has been writing about sewing for over ten years, and has taught thousands of people to sew, both online and in her sold-out sewing workshops across North America & Europe. Her work has been featured in Threads, Sew News, Seamwork, Love Sewing and Sewing World magazine.
With her contagiously positive attitude, Heather's teaching style is fun and filled with helpful tips and techniques to help you transform the outfits in your imagination into a self-made wardrobe you love -- not one you're limited to buying off the rack.

Keep in touch with Heather over on the popular Closet Core Patterns blog.
TESTIMONIALS
---
I started sewing less than a year ago and decided to really jump into building my wardrobe by trying my hand at jeans. While I still am far from perfect- I learned so much about sewing, pants construction, and fit from this class. I gained a ton of confidence and a real sense of pride- I can't stop telling people I made my jeans!
- Jenny Losey (Heads, Shoulders, Knees & Toes blog)
This workshop is fantastic! I am not an experienced sewist, but I MADE JEANS!!! Ever since I saw the Ginger jeans pattern I wanted to make them. There is no way my first attempt would have been as much fun or as successful without this workshop. I had never even inserted a zipper before. But Heather is a great teacher. She explains and demonstrates every step in a way that is easy to follow. I just followed along with each step, taking my time and enjoying the process. I recommend taking Heather's advice and putting down your seam ripper! My jeans are far from perfect, but I felt so good when I finished them that I giggled out loud. I wore them immediately and didn't want to take them off. From 3 feet they look as good as my RTW,. I'm already planning my next version. I highly recommend this workshop to anyone who wants to try making jeans.
- Sandra Van Ymeren
I am so grateful to Heather for such a thorough and clear instructional video on making jeans. I made my first pair of jeans (Gingers) by watching each lesson step by step and following you closely, then reading the comments section if I had further questions. This is so life changing to have accomplished what I thought was the unattainable and doing it so well. Thank you so much! I now have 3 more sets of denim set aside to do more Ginger and Morgan jeans.
Heather Lou, queen of the sewing pep talks, brought her A-game to this fantastic online course. She gave me the confidence to tackle the challenge of making jeans and just DO IT already. For too long I have debated making jeans, and this course made me wonder why I waited so long. She explains with clear concise instructions how to sew the jeans, including all the parts I found intimidating such as installing hardware, and correcting fit. You truly could have the course playing beside your machine, and sew alongside her, as every step is demonstrated clear and up close. Where relevant there were also downloadable files to accompany the lessons. I highly recommend this course, especially for those of us who need a little pep talk to tell us YES you can make jeans!
I have been sewing for over 50 years and consider myself a master seamstress. It's been so much fun to take this class and learn some new techniques from someone who has had so much experience making jeans. I had purchased a new sewing machine about 6 weeks ago and the combination of the class and my new machine turned my denim yardage into a beautiful pair of jeans that I will be proud to wear! WOW - I made jeans that look as good as anything in the high end stores. I watched the classes first then went back and watched again while I sewed along. Thanks for your advice about over fitting fussiness (I think if I altered out every wrinkle I wouldn't be able to move or sit). So . . . money well spent, the class provided me lots of hours of fun and taught me I have NOTHING TO FEAR!
I've purchased other jean construction programs but this one is the best - by far. The organization, pace, visuals, tips and instructor are excellent and as an advanced beginner, I feel very prepared (finally) to sew my first pair. (Side note: as an instructional designer and learning technologist for many years, I am really impressed with this learning content.)
- Leslie
FAQ
---
Q: I'm psyched about making my own jeans! How do I sign up to get started?
A: Welcome to the course that changes everything about how you make and wear jeans! To get sewing, click on the button at the top or bottom of this page, and you'll be enrolled immediately.
Q: When does the course start and finish?
A: The beauty of Closet Case Patterns' online courses is that you call the shots on when they begin and end. Sew Your Dream Jeans is a completely self-paced, online course, which means you get to decide when you start, when you finish, and how many times you replay it.
Q: What will I need to get started?
A: Before you get started, we'll share a complete supply list, along with information about where and how to source everything on said list. At the very least, you'll need a sewing machine (serger optional), iron, denim needles, denim material, lining for your pockets, topstitching & regular thread, and a jeans button.
Q: How long does the course take to complete?
A: It's up to you! To give you an idea of how long the course is start to finish, the video runs just over 4 hours long and comprises 13 lessons total. Binge watch them in a weekend, or do a little at a time. You can return to the course as many times as you'd like, and there's no time limit for you to complete in.
Q: How do I get my free pattern?
A: Once you enroll in the course, you'll receive a PDF copy of the mid-rise Ginger jeans. Head to the "Getting Started" session to download it to your device of choice.
Q: Can I use any other jeans pattern? What about using a mens pattern?
A: This course focuses on construction and technique, and while we use the Ginger jeans to demonstrate on camera, you can follow along using absolutely any jeans pattern you prefer, including a mens pattern.
Q: What if I want a printed pattern or a different PDF jeans pattern?
A: If you'd like a print or PDF copy of our original Ginger Skinny Jeans or Morgan Boyfriend Jeans pattern, we offer a 50% discount to all Sew Your Dream Jeans class participants. Visit the "Getting Started" section and follow the instructions to get your copy. We cannot substitute any of our other PDF jeans patterns for the one included in this class.
Q: I've bought your ebook. How is this course different?
A: While our ebook continues to be a great resource, this workshop lets us get into much greater depth about jeans construction, and includes some updated techniques and methods. It's also a better choice for visual learners and people who prefer classes and video tutorials.
Q: How long can I access the course?
A: All day, 'erryday. But for real, this course includes lifetime access. After you enroll, the course is yours, which means you've got unlimited access for as long as you like, across all devices for all of eternity.
This class is closed for enrollment.